If you crave a breath of fresh air and a break from the busy streets of San Francisco, take a few hours to wander around Muir Woods, an area that is home to nearly two-thousand-year-old redwoods that is named after the famed environmentalist John Muir: Muir Woods National Monument.
Table of contents: (Hide)
This place makes for a cool half-day trip from the Bay Area, and if you have enough time, you might include this spot on your San Francisco itinerary.
John Muir has been home to coastal redwoods for 150 million years, and to this day they are considered the tallest trees on our planet. Their habitat stretches along the Pacific Coast from Southern Oregon to Northern California. California's Sequoia National Park is home to the closest sibling of the coast redwood, the giant sequoia that is found in limited numbers in the Sierra Nevada Mountains in northern California. While visiting Lake Tahoe or the Sierras is a great addition to a San Francisco trip, they are a bit far for a day trip.
The age of these incredible trees ranges from 400 to 800 years, and they grow as tall as 250 feet. But besides the famous redwoods, you will also find plenty of other dwellers in this park. The park is covered by ferns, fungi, and other plants. And other trees in the park include Douglas fir and big-leaf maples among others.
But it's not just the plants that populate this incredible place. Among the animals, you might be able to spot squirrels, chipmunks, deer, and woodpeckers that frequent this place.
History of Muir Woods
Muir Woods National Monument was established in January 1908 when President Theodore Roosevelt signed the law to protect this scenic piece of California's Pacific Coast from logging under the Antiquities Act. The place is named after John Muir, a famous naturalist who is considered a godfather of modern national parks.
Muir spent much of his life advocating for the preservation of natural gems that America enjoys today and he helped to convince President Roosevelt and members of Congress to protect several national parks such as Yosemite and Sequoia. Muir's conservation efforts earned him a special status in American history and his name was used for many trails, parks, and other natural landmarks.
Needless to say, his famous quotes inspire people from all over the world to explore and get outside their comfort zone.
How to get to Muir Woods from San Francisco
Home to amazing redwoods and abundant wildlife, Muir Woods National Monument is located about 30 minutes away from the city. If you are driving from San Francisco, cross the Golden Gate Bridge via Highway 101 and take the Highway 1 exit. From there, you will have to drive on the winding road of Mt. Tamalpais for about 12 miles before you reach the entrance of the monument.
If you want to catch a shuttle bus to Muir Woods, you can do it at the Sausalito Ferry Terminal, Pohono Street Park & Ride, and several other locations. You can find the complete list here.
Muir Woods Reservations
Reservation is required for Muir Woods for all visitors traveling to the park by private vehicles and shuttle buses. Over the recent years, the place has become incredibly popular with tourists in San Francisco visitors and residents prompting officials to implement a reservation system to protect the park's natural resources and curb illegal parking along the roads. Visitors who arrive at John Muir by foot or bicycle, do not need to make a reservation.
After you pay a fee, you will get a document with an individual code that will guarantee your parking spot. These documents are typically emailed about a week ahead of your visit, so if you don't get it right away, don't worry. You will have to show your reservation when you enter a parking lot.
In addition to paying for a reserved spot, you will have to pay to enter the park. Muir Woods is managed by the National Park System, so the fee to enter the park is close to what you would pay for many national parks. If you have an annual pass or AN America the Beautiful Pass, it will cover the entrance fee.
Best time to visit
Due to its proximity to a large urban area, Muir Woods National Monument sees the highest visitation from May until about October. If your trip falls on one of the peak visitation months, try to avoid weekends and also arrive by 8 a.m. when it opens. Foggy and rainy days also tend to deter a lot of visitors, so if you are not afraid of bad weather, definitely give it a go.
How to dress
The Coast of Northern California is known for its foggy and temperate climate. Luckily, you can still catch plenty of sun on your trip to Muir Woods National Monument, if you visit it from late spring through early fall. However, even if you happen to visit this majestic place on a cloudy day, you will not have to freeze. Temperatures at John Muir National Forest typically don't plunge below 40 degrees Fahrenheit and rarely go above 75 degrees Fahrenheit even during balmy summer days.
Muir Woods National Monument Fees
Fees are applied to entrance and parking at Muir Woods. Below are the rates:
$8.50 Regular Car
$30.00 Medium-size Car
$45.00 Large Car
$15 Adult entrance fee, kids 15 and younger can enter for free.
While most people arrive in the park by car, some take a shuttle. If you want to reserve your shuttle spot in advance (This is especially a good idea if you are visiting during summer when the visitation is high), you can purchase a $3.25 round-trip adult ticket before you come to the park.
While you are required to make a reservation ahead of your visit, you can pay entrance fees upon your arrival or at the same time when you make your reservation.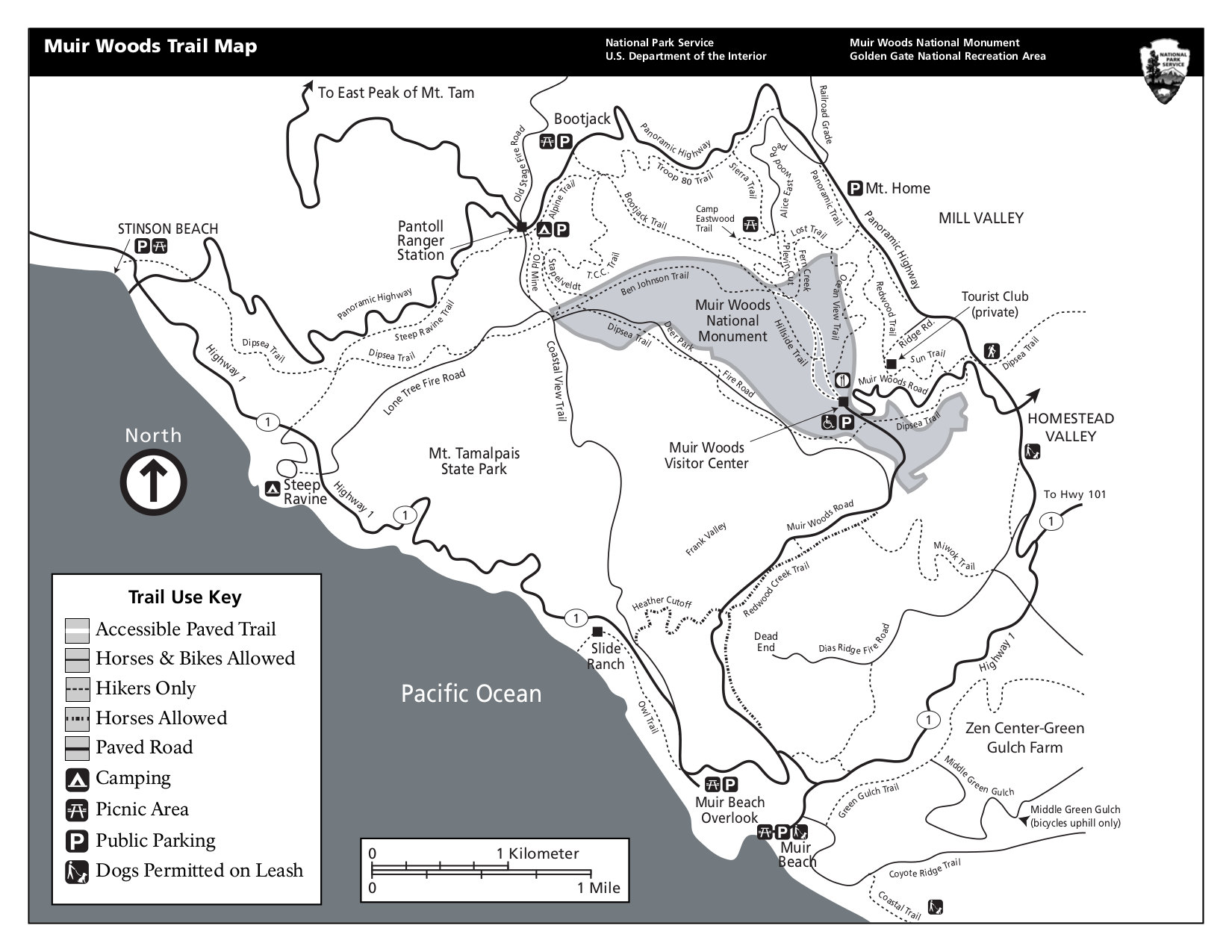 Hiking at Muir Woods is the ultimate adventure. This place offers over 6 miles of hiking trails some of which connect with the neighboring Mt. Tamalpais State Park. The trails throughout Muir Woods are flat and super easy, so you will be fine even if you are not a very advanced hiker.
If you simply want to see the redwoods, you can walk around Redwood Creek Trail. However, if you want to avoid the crowds and are not afraid of a more strenuous hike, take Canopy View Trail.
PRO TIP: If you don't want to explore this monument on your own, feel free to take a tour of the area with a guide. Tours of Muir Woods are often combined with San Francisco or the Bay Area Wine Country (think Napa or Sonoma) into one day. Taking a guided tour of Muir Woods or combining it with other landmarks in the Bay Area is a great idea for those who want to avoid traffic.
Canopy View Trail
While all hiking trails at Muir Woods begin at the wooden boardwalk, you can easily recognize Canopy View Trail by the set of wooden stairs that snakes uphill. The meandering dirt trail has a steep incline at the beginning and takes you along the beautiful landscape. and after you hike 1,5 miles you will reach a junction where you could either continue your hike down on Lost Trail or go up to the high point of the loop.
The Lost Trail also provides access to Mt. Tamalpais State Park before it connects with Fern Creek Trail and cuts back toward the south. As you reach the bottom of Fern Canyon, you will have the option to hike along with the log that sits above the creek and provides access to Redwood Canyon.
If you decide to continue your hike without going to Redwood Canyon, you will simply follow the creek downstream.
Make sure to do all of your research ahead of your trip, as Muir Woods doesn't offer a Wi-Fi connection.
Redwood Creek Trail
If you decide to hike along Redwood Creek Trail, the most popular destination, you will have a chance to visit several groves located along the way: Founders Grove with the biggest tree along the whole trail; Cathedral Grove and Bohemian Grove all of which are populated with amazing redwood trees.
As you walk along Redwood Creek Trail, you will pass four bridges that feature mile markers and tell you exactly where you are. Accessible as part of the main trail are a half-mile loop, one-mile loop, and two-mile loop.
Bridge 2 Loop
Bridge 2 Loop will take you to Bridge 1 and set you a little bit back exactly where you started. The loop is approximately 1 mile and is the shortest trail within John Muir National Woods Monument.
This hike will take you around the path where you will find the Bridge Tree. This is a perfect photo spot, so make sure to keep your eyes peeled for those hollow redwood trunks! This trail is pretty flat so if you are not a very advanced hiker, this is a perfect opportunity to take some cool photos and get some exercise.
Bridge 3 Loop
Bridge 3 Loop will also take you to Bridge 1 if you walk to the end. Since Bridge 3 is located further along the main walkway, it will take you about 1 hour to complete.
This is hands down one of the most popular Muir Woods hiking trails if you want to enjoy these majestic trees. To do this hike, you will need at least a couple of hours. To do Bridge 3 Loop, go along the wooden boardwalk for about 10 minutes after you have paid the entrance fee.
Once you've crossed Bridge 3, walk along the dirt path back to Bridge 1. Keep an eye out for the hollowed-out redwood along this trail — it's a perfect photo op!
Bridge 4 Loop
Bridge 4 Loop starts at the end of the main trail. The loop is about 2 miles and will take you between 1 and 1,5 hours to complete depending on your pace.
This is the longest trail within Joh Muir National Monument and compared to the two previous trails it offers plenty of physical challenges. Since the trail goes up to Mount Tamalpais, I would personally recommend this trail over the other two, since it boasts the most scenic route.
To find Bridge 4 Loop, go along the wooden path after you start on the main trail. After you cross the bridge, you will start going up the mountain. From the elevated trail, you will be able to see the incredible views of the redwoods below you. The loop will bring you back exactly where you started, so you don't have to worry about arriving at a different spot.
Dipsea Trail
One of the most popular trails in Joh Muir Woods, Dipsea Trail is incredibly scenic. When you take the Dipsea Trail, you will walk through the main area of the monument and hike up the hill to get the majestic view of Mount Tamalpais and the sprawling Bay Area.
To begin the trail, head over to the bridge near the overflow parking lot. Walk for about half a mile outside the canyon until you reach an exposed area. You will have to walk through the grassy patch before the trail will lead you into the redwood forest where you will have to walk uphill for a quarter of a mile until you get to the Ben Johnson Cutoff. From here, you can either make your way back to the Muir Woods trail that runs through the area or continue your hike toward Stinson Beach.
PRO TIP: Grab the map at the visitor center after you pay for the entrance. Also, don't forget to bring plenty of water and snacks as the park doesn't have water fountains or stores past the visitor's center.
Visiting Muir Woods can be a great experience as long as you plan everything right and take the time to explore it. I recommend taking between 1,5-3 hours to explore everything, however, if you want to do more hiking, you should allocate about 5 hours for your trip.
Leave a Reply
Tags: marin county, national park, san francisco, san francisco bay area